When it comes to choosing a scrap yard, many people get into the habit of just looking at quotes and nothing more. It's understandable that you want to choose a low-cost company to help you recycle metals, but there are a lot more factors involved that can help ensure you get a high-quality and seamless experience.
Whether you're a residential or commercial customer, here are a couple of factors to keep in mind when picking the right scrap yard.
What are your goals for scrapping metal?
First, it's important to decide what the goal for your scrap metal is. This will help determine which scrap yard is ideal for your needs.
Scrapping for money
For some people, the goal might be to sell the scrap metal for a bit of profit. For instance, you might have an old car that no longer works but also doesn't have much value as a vintage vehicle. You might want to free up some space by scrapping the vehicle and selling the metal that can be salvaged from it. Alternatively, you could just sell the vehicle for scrap directly to a recycler.
For this, you can simply contact a recycler, tell them about the item you're recycling and they'll give you a quote. If you accept it, they'll come to pick up the item and deposit the money into your account. It's a simple and stress-free process that doesn't take long. This is the most common reason for scrapping metal for both residential and commercial customers.
Scrapping to dispose of something
Another common reason to scrap metals is to actually dispose of certain kinds of items that don't have much value but are difficult to dismantle. This is an environmentally-friendly option as opposed to dumping it in a landfill.
Certain appliances and items may not contain much useful scrap while also being difficult to recycle. These items won't be worth much to the recycler or are fairly difficult to recycle, meaning they don't have set prices and likely won't be willing to pay you anything for it.
However, this can still be an option to dispose of something specific. This could be specialty items like safes, trailers, gold or silver items, and pressurized canisters. It's good to keep in mind that most scrap yards will pay you for everything you recycle, even if it's a small amount.
Scrapping for metal
Some people may be interested in recycling items to acquire the metal and use it for other projects or repurpose it. Some scrap yards may be willing to help you recycle metal items and return the materials to you for a fee. This is more common for commercial businesses, but there may be some residential customers that are interested in acquiring the scrap metal from an unwanted item.
This is an uncommon request compared to just selling scrap for money, so it's important to get in touch with the company and ask if they're willing to help you scrap items and give you the resulting materials.
Whatever reasons you have for scrapping, make sure you look around for different quotes or services based on your needs. The best option is always to speak to your local scrap yard to see what services they offer for both residential and commercial customers. Most scrap yards are willing to make exceptions and will offer flexible services based on your needs.
The types of metals accepted at the scrap yard
It's a good idea to get in touch with the scrap yard to ask what kind of metals they accept. You might also find this listed on their website under a services section. Depending on the type of item you're scrapping, it might have a variety of different metals that you can recycle.
Some companies will only accept single or whole sheets of scrap metal, while others are willing to take entire household items.
Residential metal recycling
If you're looking to recycle whole items such as a television, a washing machine, computer parts, or even an entire car, then it's best to pick a good scrap yard that will accept all ferrous and non-ferrous metals. This will make it easy for you to scrap entire items without needing to separate them or break them down into acceptable metals first.
In general, if the scrap yard accepts these following metals, then there's a good chance they'll accept all ferrous and non-ferrous metals:
Aluminum
Brass
Bronze
Cast iron
Copper
Steel
They should also accept all forms of car batteries if you decide to scrap a vehicle. If the service states on their website or on the phone that they take all household appliances, then it's safe to assume that you can offer entire items to be scrapped.
However, some scrap yards have their own rules regarding items they do and do not accept. For example, a scrap yard may refuse fridges and freezers because they're concerned about what's inside of them and do not want to go through the process of cleaning the appliance before scrapping it for metal.
Commercial metal recycling
Commercial scrapping can be a little different depending on your circumstances. For example, you might have big metal items that will need to be transported on much larger vehicles. Or, maybe you need to consider any flammable or explosive materials that may be lingering on the items you're scrapping.
In general, the accepted material list doesn't change for commercial recycling, but you'll likely need to ensure that the metal you deliver is free of hazardous waste or substances. Items such as pressurized tanks and sealed containers with potentially radioactive or flammable materials will need to be handled with extreme care before being delivered for scrapping. If you'll be scrapping unique metal items like this, it's important to get in touch with the metal recycler beforehand.
In short, it's always best to get in touch with local metal recyclers to ensure they accept the types of items and metals that you'll be scrapping.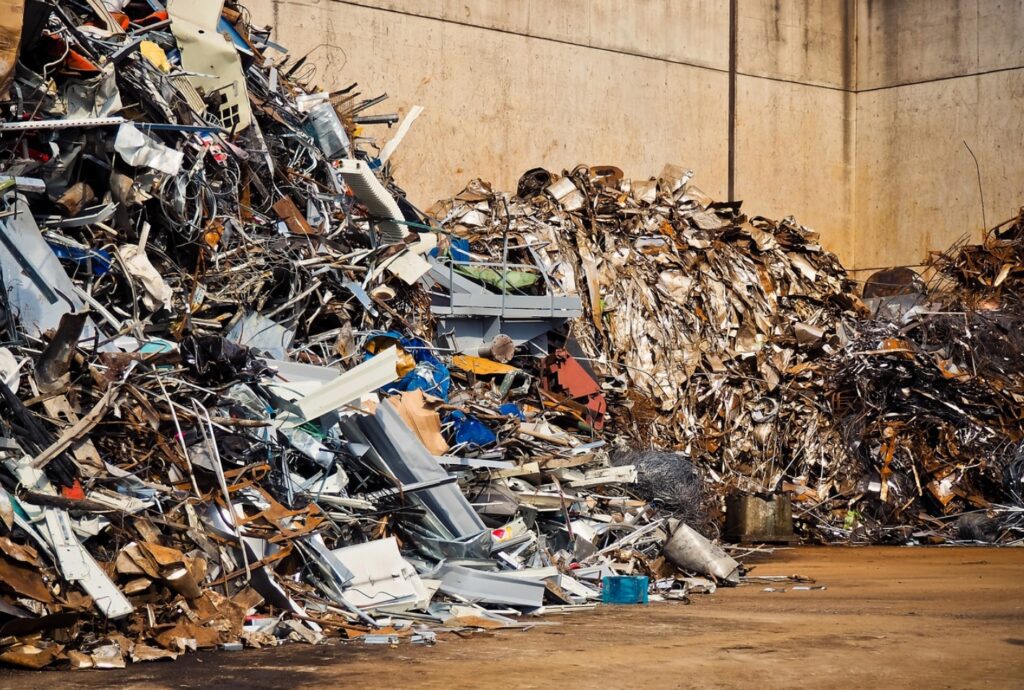 Examining the working environment of the scrap yard
It's a good idea to visit local scrap yards to examine their working environment at least once. Look for scrap yards near your location and pay each of them a visit before you decide to go with a particular service. This will help you see what kind of technology they use, how their business operates, and if they have any modern equipment to help with the scrapping process.
Many scrap yards these days use automated processes with machines, but there are some older scrap yards that use manual labor to ensure that everything is cleaned and dismantled properly. Ideally, a scrap yard should use a mix of both manual and automated processes for the best results.
Large business-oriented scrap yards
Some scrap yards operate as large businesses, meaning they have professional processes, advanced technology, access to online metal marketplaces, and are capable of processing tons of scrap metal every day. This is the ideal option for large volumes of metal recycling.
If you're a business looking for a metal recycling partner, then it's often best to work with a large scrap yard that is capable of handling a larger volume of metals.
Smaller family business scrap yards
There are also older family-run scrap yards that are much smaller, use older machines, and have fewer staff members. They typically don't have automated processes and most of the recycling is done manually by an experienced team of scrappers.
These smaller businesses have much lower running costs which means they can sometimes offer you a better price for your items. It's also much easier to visit these scrap yards, drop a few items off, and then get paid. This is preferable for residential customers as it helps them scrap unwanted items more quickly and get a higher price for their goods.
That's not to say that scrap yards aren't capable of both large-volume and small-scale scrapping. Some scrap yards are well-equipped to handle both small residential scrapping and large-volume business scrapping.
If you can physically visit a local scrap yard near your location, it'll make things a lot easier and convenient for you.
At Apex Recycling, we're more than happy to work with both residential and commercial customers, so get in touch with us today to see how we can help with your recycling needs. You're always welcome to come and visit us at our scrap yard. No appointment is needed and we're open to the public.
Picking a scrap yard that offers convenience
Convenience can also be a huge factor when it comes to picking the right scrap yard for your needs. Here are a few things to keep in mind when choosing a scrap yard.
Location
Location is important since scrapping usually involves heavy items. If a scrap yard has to travel a long way to reach your location, then they may charge extra fees based on the distance. Alternatively, if you're delivering the items to the scrap yard, then it may cost you a lot of money to travel there in a larger vehicle with your goods.
Picking a local scrap yard is usually far more convenient for delivering goods, but it does limit your choices unless you're lucky enough to find the perfect scrap yard for your needs in the local area.
Opening hours
While most scrap yards are open during all typical business hours, you might find a scrap yard that is only open during hours that are inconvenient for you. Flexible operating hours are ideal so that you don't need to stress over making deadlines or arriving at the scrap yard and unloading your items in time.
Extra services
Depending on your personal needs, you may find that some scrap yards offer extra services that can add more convenience. For example, a scrap yard may supply you with a large collection bin that they'll pick up once you've finished filling it up. This is perfect if you're clearing out a home or if you're working on a construction site that will produce a lot of scrap metal during cleanup.
Get in touch with scrap yards such as Apex Recycling to see how we can customize our services to meet your exact needs. We value convenience to ensure that our customers get a high-quality experience that exceeds their standards. Don't hesitate to contact us if you have specific needs for your recycling!
Picking an environmentally-friendly recycler
Depending on your personal views on environmental consciousness, you might find it preferable to find a metal recycler that is environmentally-friendly.
As an industry, metal recycling is inherently environmentally-friendly. Recycling metals uses far less energy to produce usable metal and it also helps reduce waste around the world. Regardless of the metal recycler you use, you'll be helping the world by reducing the amount of waste you produce and creating usable metals out of unwanted items.
However, some scrap yards occasionally go the extra mile by making their processes more environmentally-friendly. For example, some scrap yards may use energy-efficient machines and vehicles. This helps to reduce the amount of fuel they consume while recycling, leading to a more environmentally-friendly process. They may also adopt green practices in the office, such as reducing their reliance on paper documents and switching to mostly electronic processes.
If you're concerned about the environmental impact that a scrap yard has, you can always speak to them and ask more about the processes they use and their commitment to reducing their carbon footprint.
Get in touch with Apex Recycling today
If you're looking for a local scrap yard in Michigan that works with both residential and commercial customers, get in touch with Apex Recycling today to see how we can help you. Whether it's commercial recycling, residential recycling, professional plant cleanouts, or demolition, we'd be more than happy to assist you with your next project.